Binding is a type of document finishing that secures multiple pages together, turning loose sheets into a variety of documents and publications with many different uses.
The type of binding you choose depends on the particulars of your project and what it will be used for. Take a look through our handy guide to find out more.
Which Type of Binding is Best?
The main deciding factors between different binding methods is the number of pages, cost, and type of document/publication. In this section we give you a quick overview of the different types of binding to help you decide which method is most suitable for your project.
Types of Binding: Standard Binding Methods
The main deciding factors between different binding methods is the number of pages, cost, and type of document/publication. In this section we give you a quick overview of the different types of binding to help you decide which method is most suitable for your project.
Saddle Stitch
This is a cheap binding method that uses staples, suitable for small documents like A5 booklets, thin A4 brochures, thin magazines, pricelists, and newsletters.
If you try to bind too many pages, the cover and edge become uneven. For this reason saddle stitching is often not suitable for documents over approximately 48-64 pages, although this figure does depend on a number of factors, for example, the thickness of paper and cover.
Here at Print Bureau, we have a saddle stitching machine in house, which allows results in fast turnaround times.
Perfect Binding
This binding method is suitable for larger documents like A4 brochures, magazines, and books.
You may not know the name, but you are certainly familiar with perfect binding. This is a very common method of binding for books where a spine is created and pages are glued into the spine. For this reason it is not suitable for slim documents without many pages, as they cannot be glued well into a spine.
At Print Bureau we also have perfect binding equipment in house so that we can fulfill perfect binding orders promptly.
Spiral Binding
Spiral binding is suitable for both slimline and thicker documents, however, this binding method is time consuming and therefore more costly.
Loop Binding
This is a particular type of saddle stitching which uses a looped staple so that documents can be inserted into a ring binder. This type of binding is rarely used these days.
Types of Binding: Specialised Binding Methods
Stab & Screw Binding are less commonly used methods of binding, usually chosen when the binding is desired as a design feature or when there are a large number of pages.
Sewn Binding, the traditional method of binding books using thread, is also a specialised type of binding. These binding methods are more costly and require longer lead times than standard bindings in order to outsource to our partner finishing companies.
More Information About Binding
If you have more specific questions about each type of binding, read our guide below to get more information about the specifics of each method.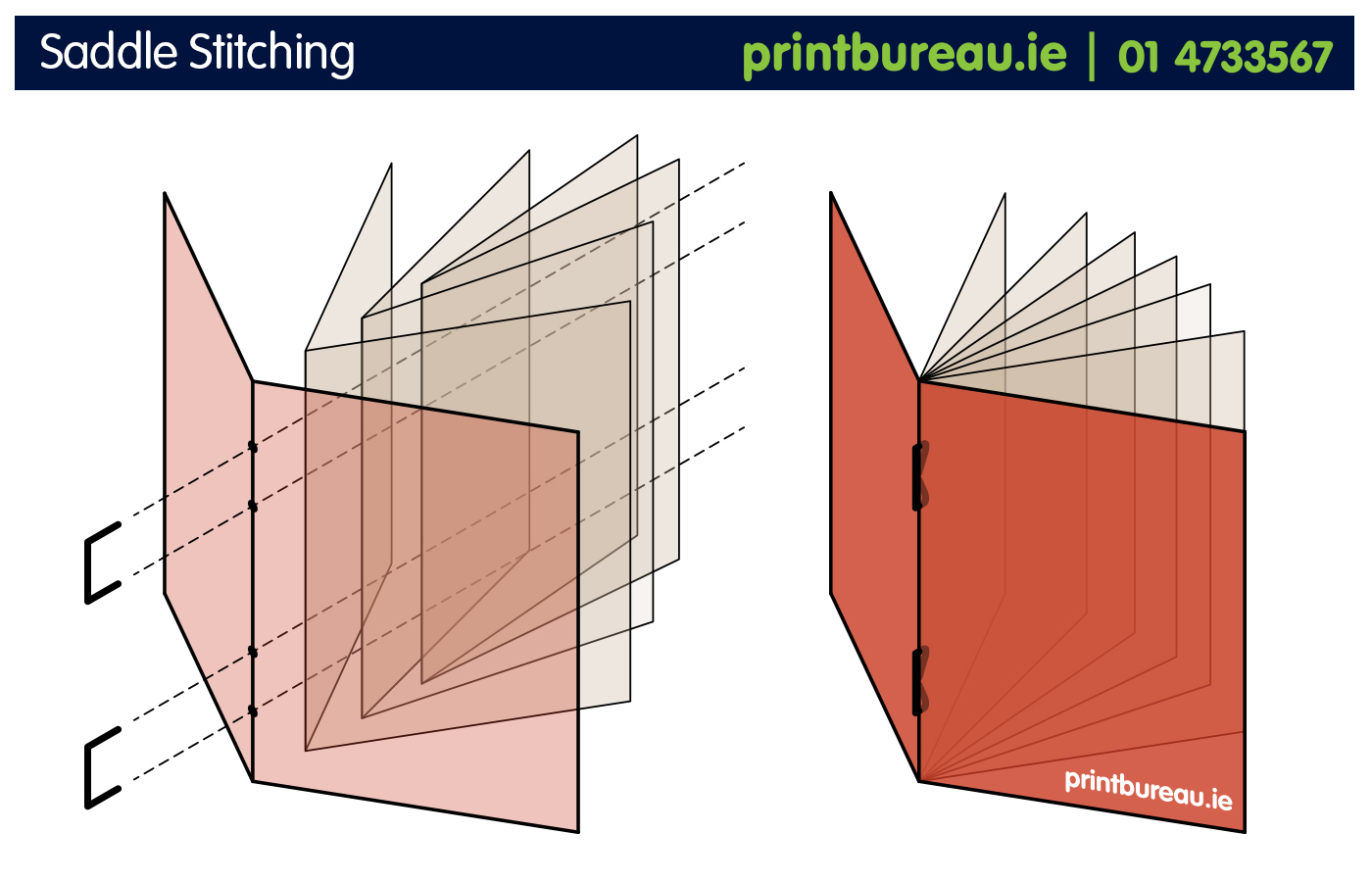 Saddle Stitch
This common type of binding uses staples placed through the centrefold of a group of pages and is often found used in A5 booklets, A4 brochures and magazines.
The page count of a saddle stitched document must be a minimum of eight pages, with the total number of pages being a multiple of four, including front and back covers, because each sheet is folded in half, resulting in four pages.
This is the most cost effective type of binding and has the benefit of adding minimal bulk and weight, which is ideal for documents that require packing and shipping.
This binding method offers some versatility in that covers can be made of the same paper as the internal pages (self cover) or alternatively a heavier or glossy cover can be added. It's also possible to use saddle stitching with a variety of dimensions, either standard or non-standard sizes. It is also possible to use a variety of different paper types, stocks, weights and finishes.
Due to the simplicity of this type of binding, it is useful for both long and short runs.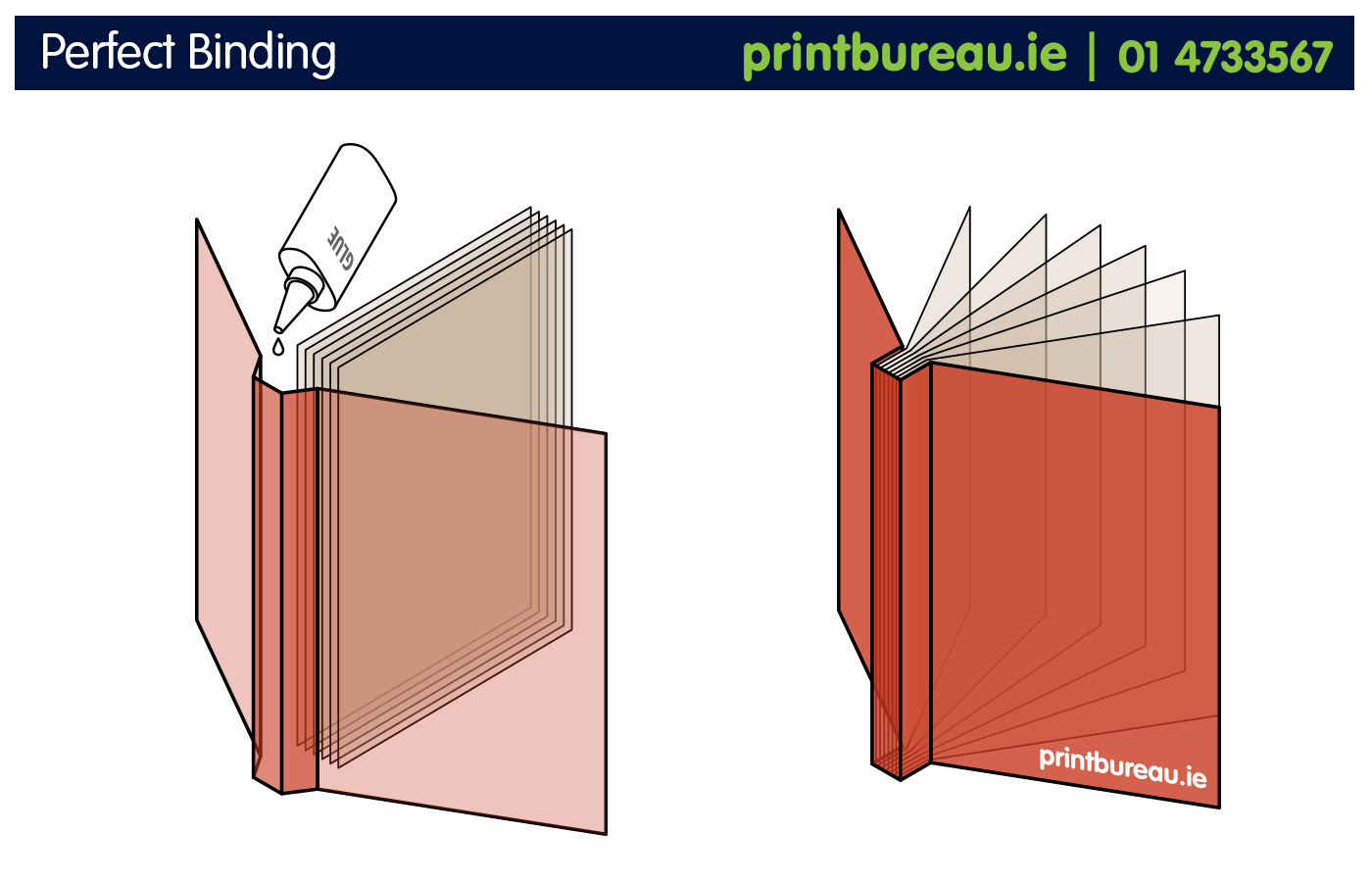 Perfect Binding
This is another common type of binding, often used for thicker brochures, magazines, catalogues, or books, both paperbacks and hardbacks. A spine is formed in the cover and pages are glued into the spine, which is why this method of binding is also called adhesive binding.
The pages are not folded, so it is not necessary to use multiples of four, which allows greater versatility in publications, but there is a minimum page limit of around 40 pages (although this number does depend on a number of factors, eg paper thickness) because several millimetres thickness are required in order to create a spine.
Perfect binding is always a good choice for publications that require an added air of professionalism or finesse.
As perfect binding creates a spine, it's possible to add details on the spine like the name of the publication, volume numbers etc.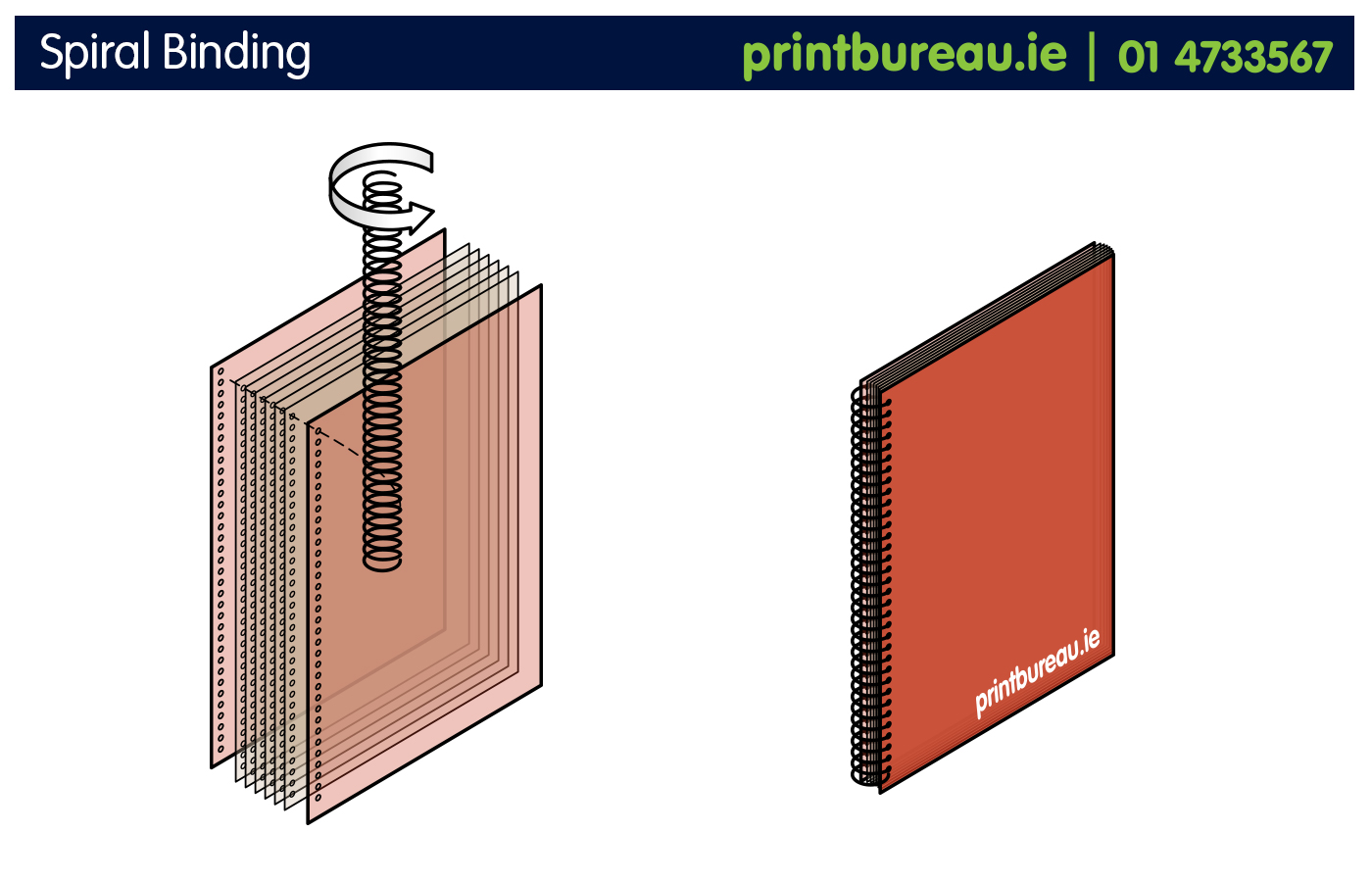 Spiral Binding
Spiral binding requires holes to be punched into the pages of a document, then a plastic or wire coil is threaded through the holes to secure the pages.
The main advantage of spiral binding is that it simplifies the printing task, as it allows pages to be printed as singles as opposed to printer pairs or spreads as required by other binding methods.
Spiral binding also allows documents to be used in specific ways, which makes it perfect for publications where the pages need to be folded all the way to the back to enable the document to lie flat, such as calendars, cookbooks, colouring books, or training manuals.
However, spiral binding is more labour intensive which increases the cost somewhat.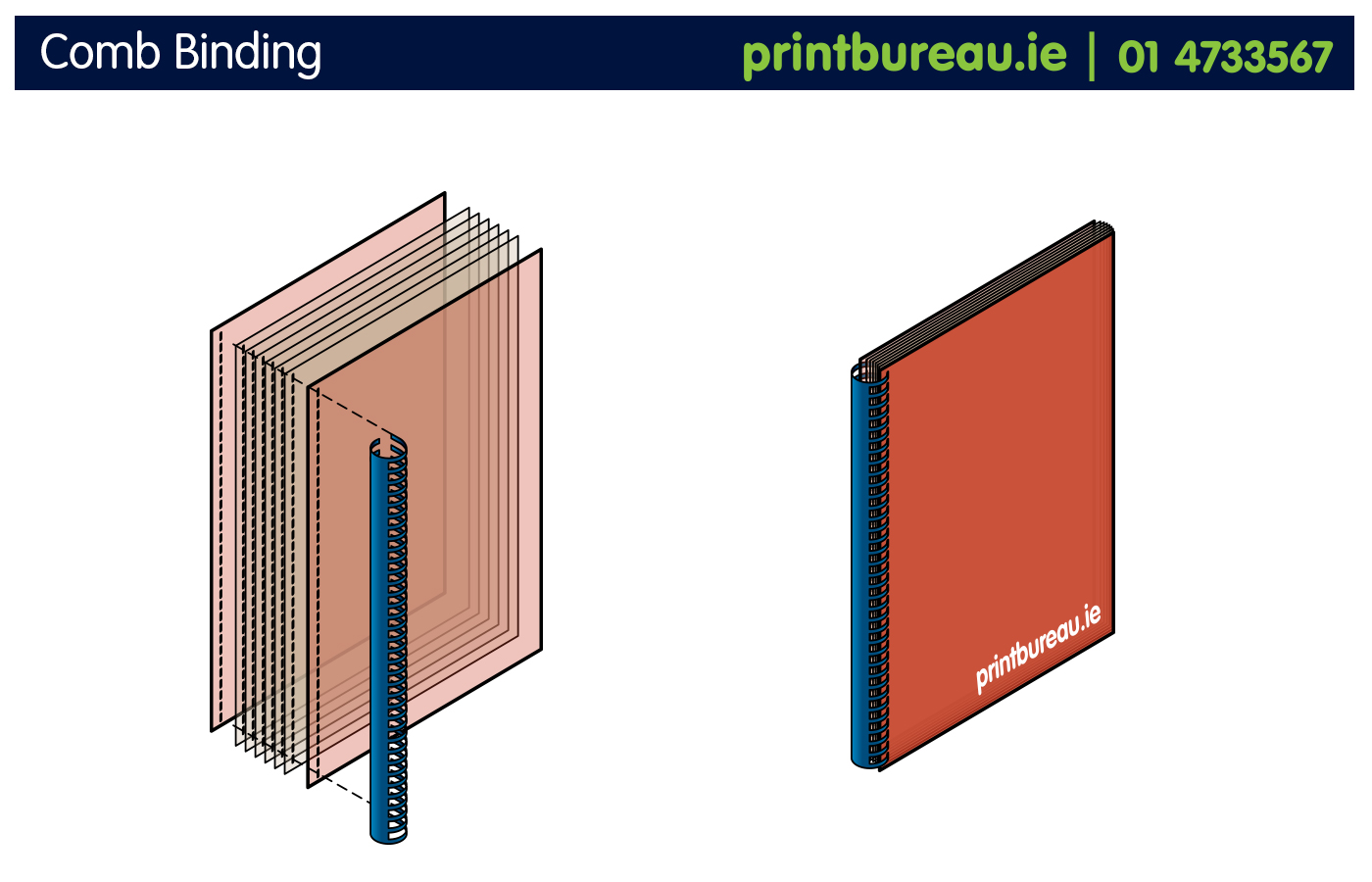 Comb Binding
Comb binding is very similar to spiral binding, in that holes are punched into the document and a plastic comb is inserted into the holes to hold the document together.
At one time comb binding was popular as many businesses had their own comb binding machines for producing in house reports, but this binding method is somewhat tricky and requires practice to master the technique and produce high quality results.
These days companies have learned that outsourcing binding to printers and finishing companies yields far better results for professional documents.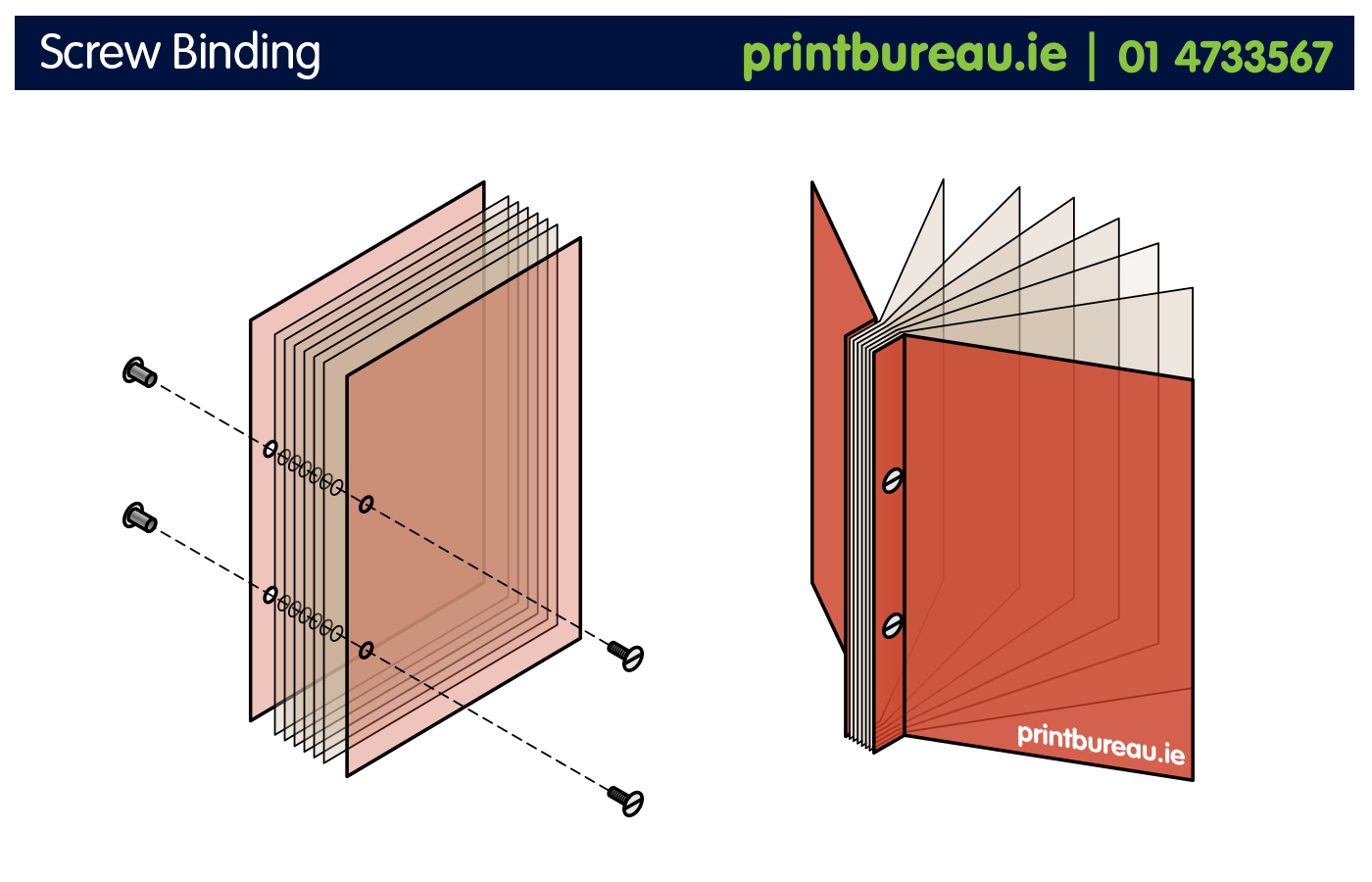 Screw Binding
This binding method joins pages together by driving metal or plastic screws (sometimes bolts) sideways through the cover of a publication along the binding edge. It is used for publications with a very large number of pages or as a way to archive receipts and other legal documents. A single screw/bolt binding is also often used in paint swatch books or similar where the screw drives through a corner of the document to allow the pages to fan out.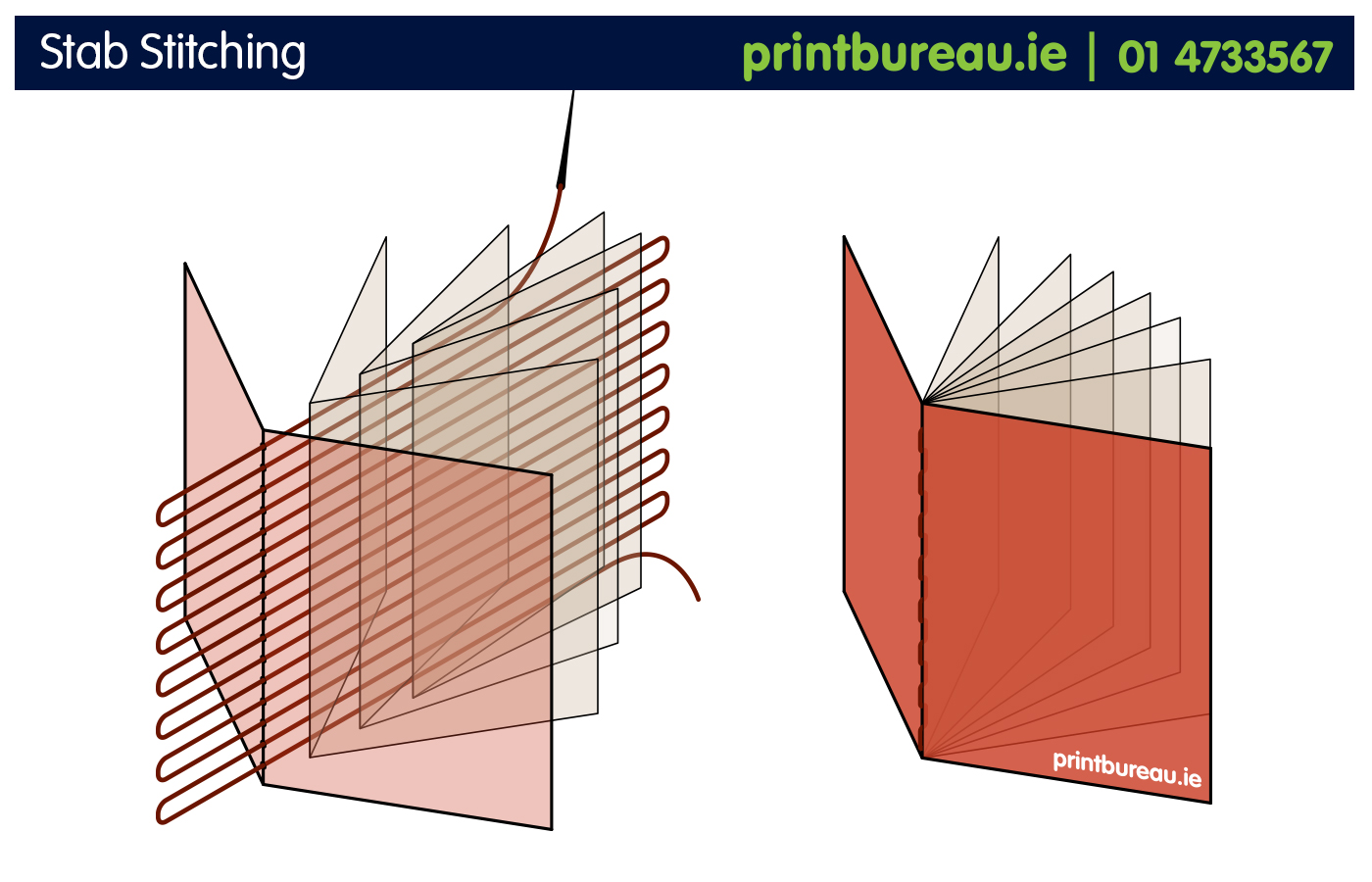 Sewn Stitching
This is a means of binding pages together by sewing pages together with thread and then encasing them between hard covers. Also known as case binding, it is most commonly found in hardback books like bibles. This method is very strong and durable but requires a degree of manual work and is therefore costly.
Contact us for more details: